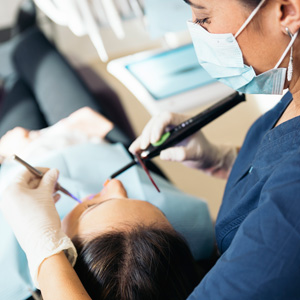 Over time, our teeth can begin to wear down. They may also be affected by a form of trauma or become damaged by tooth decay. To help you regain your self-esteem and the full function of your mouth, you can have a dental crown placed on top of your compromised tooth.
A dental crown will allow you to eat the foods you love again and smile with confidence. Nobody will be able to tell it apart from your natural teeth. It's colour-matched to ensure that it fits in seamlessly with your smile. When you get your dental crown from Fortitude Valley Dentist, you'll love the advantages of our modern technology for dental crowns.
Our Leading-Edge 3D Scanner
We're committed to ensuring that our patients benefit from the latest and greatest technology available in today's dentistry. Typically, getting a dental crown meant that you need to have a messy, uncomfortable impression taken of your teeth. Instead, we have a digital 3D scanner available. It gathers all the information we'll need to create your crown in just seconds. You won't need to have any moulds applied, which is great news for people with a sensitive gag reflex.
Sit Back and Relax!
At every visit, you'll put on your Bluetooth headphones and watch the television that's located on the ceiling while we go to work for you. Choose a movie or episode of a series that you'd like to watch. Your appointment will be completed before you know it!
Contact the team at Fortitude Valley Dentist today to schedule your consultation with us. (07) 3666 0726