Dental Implants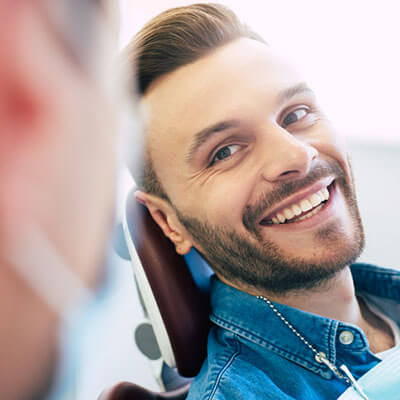 If you're missing a single tooth, several teeth or need a full set of teeth replaced, dental implants are an excellent option. The team at Fortitude Valley Dentist is experienced in placing implants and the subsequent crown, bridge or denture, so you can rest assured that you're receiving the highest quality dental care.
What Is a Dental Implant?
A dental implant is a titanium post that is placed in the jaw. After it has integrated into the jaw bone and is fully healed, a restoration such as a crown, denture or bridge can be placed on the implant, completing the procedure and restoring the look and function of a beautiful smile.
The process takes a total of 3-6 appointments, over 1-6 months. The cost of a dental implant is $4000-$5000.
What to Expect For a Dental Implant
There are three distinct phases involved in getting a dental implant. In the following, you can learn more about what to expect each step of the way. Initially, our dentists need to evaluate you and determine that a dental implant is the correct solution to address your needs and that you are a candidate. If so, we'll proceed with the next steps.
The implant is placed in your jawbone. A healing time takes approximately three months for the implant to integrate into the bone. If appropriate, we can fit you with a temporary crown that can be worn until we can affix a permanent crown. Occasionally, you may need teeth extracted before the implant can be placed. If so, we will complete the extraction and allow it to heal before starting.
Impressions will be taken of the area surrounding the implant, which will then be sent to the laboratory. There, your crown, bridge or denture will be created for you.
Your restoration will be sent back from the laboratory, and we'll book you in for a follow-up to fit the device or prosthetic. After it has been attached, the procedure will be complete.
Advantages of Implants
Today's dental implant designs are one of the best ways to replace missing teeth. They're made of a nickel-titanium alloy, which is readily accepted by our bodies in most cases. This material is also used to fix broken bones and has been around for decades. Missing teeth can be replaced by a nickel titanium dental implant acting like a root of a tooth.
Our Approach to Implant Therapy
We take our time to incorporate a natural and functional approach to implant care, allowing your body adequate time to heal and integrate with the finished product.
We complete your implant placement in stages so we can monitor the integration and bone support and place the final crown (tooth portion) once the underlying implant is completely stable.
The systematic nature of our implant program allows for a much more comfortable transition to the final product.
Do I Qualify for Implants?
The first step in implant treatment is always a consultation. You can schedule one via phone or email. If you have access to your previous dental X-rays, please do your best to bring them with you. These additional images allow us to see how your smile has transitioned over the years and gain a better understanding of your specific needs.
During your evaluation, we will assess your jaw, teeth, bite and then discuss your individual concerns and needs. Based on all of the information we collect, we can then determine if dental implants are best for you as opposed to another type of tooth replacement alternative.
FAQ
Not at all. It's actually quite painless. Your mouth will be numbed so that you don't feel any pain. While you're here, feel free to ask us about all the things we can do to help make this more comfortable for you. Our noise cancelling headsets will help you enjoy your music with no unwanted noise.
We also have nitrous oxide available if you feel particularly anxious. Your comfort is extremely important to us.
From your initial consultation to the final placement of your implant crown, the average process can take between 3-6 months.
With proper care and maintenance, your dental implant should last as long as your own natural teeth.
Single tooth replacement typically costs about $4500 for an individual implant and crown. If you require multiple implants, we charge $3,999/implant. We can generally use pairs of implants to support multi-tooth restorations.
Book Your Consultation Today!
No Gap consultation for those with health insurance for Dental Implants Fortitude Valley. Don't have a health fund? – Not to worry, only a small $49 consult fee applies and $50 for your X-ray if applicable. Call in store to book your appointment!
CONTACT US

Dental Implants Fortitude Valley, Spring Hill, Newstead, QLD | (07) 3666 0726