Emergency Dentistry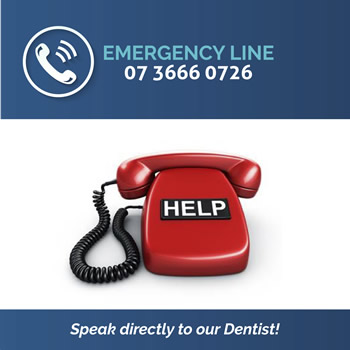 From a broken tooth resulting from a sport-related impact to a sharp pain in your tooth, there are all types of dental emergencies that we see. At our warm and caring dental office, our compassionate and experienced team is available to address your concerns.
For your convenience, Fortitude Valley Dentist is open until 6:30pm on most days and till 7:30 on Wednesday evenings, allowing for some emergency treatment. For urgent cases, we are able to offer same-day emergency appointments. Just call our practice to discuss your concern with a member of our team, and we will be able to help you.
For after-hours emergency care, patients should call (07) 3666 0726 and follow the prompts to be directed to our emergency/after-hours mobile. One of our dentists will be in contact as soon as possible.
Free initial consultations are also available in the office, over the phone or via Skype. Please note that certain terms and conditions apply.
Do You Need Dental Treatment Straightaway?
Perhaps you're wondering if your dental concern represents a real dental emergency. Here are some of the most common dental concerns that should be addressed as soon as possible:
A severe toothache
A broken or chipped tooth
A knocked-out tooth
Loose, defective or broken dentures
Uncontrollable bleeding
Painful swelling
Injury to the jaw
If you're suffering from any of the dental concerns listed above, it is highly recommended that you contact our practice (or another Dental Clinic) to discuss emergency treatment. If any of these oral health complications are left untreated, they can turn into more serious complications.
WARNING: If you are experiencing severe swelling of the face/jaw/throat, or restriction in jaw opening (i.e. you cannot open your mouth) – please go to your nearest Hospital Emergency Department.
How to Prevent Dental Emergencies
Naturally, not all dental emergencies can be avoided. There are, however, some steps you can take to help prevent dental emergencies. These include
Wearing a professional, custom-fitted (vs. an over-the-counter) mouthguard when playing sport
Avoiding using teeth to open packages, bottles or other items
Never chewing ice or hard foods such as lollies
Pain Relief As Quickly As Possible
Our top priority is to get you out of pain as quickly as possible. Even if you don't have an appointment, it's best to contact us immediately. No matter how full our schedule is, we will always make time for people who are in pain or experiencing a genuine dental emergency.
Ultimately, we want to help you feel back to normal again and once you're comfortable you can decide what to do next.
Saturday & Sunday Emergency Dental Care
It almost seems as though it's a rule of nature that dental emergencies occur after hours. If our office is closed and you need urgent attention regarding a toothache, broken tooth or other dental emergency, you can contact us at any time.
We're available to provide urgent care over the weekend, pending a $250 call-out fee. This weekend emergency charge does not include any applicable fees related to exams, X-rays or required treatments. However, it allows you to access same-day care outside of our typical office hours.
Common Dental Emergencies We See
Some of the most frequent dental emergencies that we treat are related to broken teeth, falls from electric scooters, sudden tooth pain and infections caused by untreated tooth decay. If you suddenly have a fractured tooth or are experiencing a bout of pain, it's important to contact us. Depending on the extent of treatment required, we may be able to repair your tooth on the same day.
Keep Your Routine Visits
One of the best ways to avoid a dental emergency is coming in for your biyearly maintenance visits. By doing so you, you can keep your teeth in optimal health.
FAQ
How much will my emergency treatment cost?
Our top priority is to get you out of pain. When you're comfortable we can assess the tooth to determine whether you need a simple, affordable treatment or whether something more complex is required. The cost of your care could range from an inexpensive filling to multi-visit therapies.
Can I see someone immediately?
Yes. If you're in pain and require emergency attention, we encourage you to contact us straightaway. Same-day appointments are available and we provide a call-out service on weekends.
Contact Us Today!
If you've been putting up with discomfort or pain or any other type of dental emergency, we encourage you to contact Fortitude Valley Dentist today.
Free consultations for all dental treatments for those with health cover and easy payment plans available! Don't have a health fund? – Not to worry, only a small $49 consult fee applies and $50 for your X-ray if applicable. Call in store to book your appointment!
CONTACT US

Emergency Dentist Fortitude Valley, Newstead, Spring Hill QLD | (07) 3666 0726