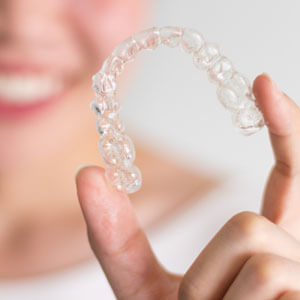 The world of dentistry can be confusing to navigate without any guidance. There is a tremendous array of treatment options, and you might be wondering which is best when it comes to orthodontics. At Fortitude Valley Dentist, our team is here to assist you. We want to make sure that you choose the option that suits your lifestyle and gets you the results you want.
The Easy Path to Straighter Teeth
If you've been considering the best way to straighten your teeth, Invisalign offers an array of advantages over traditional braces, such as
Virtually invisible aligners
No messy impressions needed
Can be removed at your convenience
Allows you to see your results before embarking on treatment
Doesn't restrict your diet
You won't have to feel concerned about how Invisalign affects your lifestyle. With no brackets or wires that can break or damage your mouth, you won't have to worry about emergency visits. Your checkups with our dentist are minimal, taking place about every six to eight weeks.
How Invisalign Works
When you start Invisalign treatment, we'll use ClinCheck® software to show you what your smile will look like when you've worn your final set of aligners. After we've gathered all the necessary information, we'll send it to the Invisalign laboratory. There, they'll create your sets of aligners that take your teeth from where they are now to their final, desired position.
You'll wear each set of aligners for about two weeks, then switch them out to the next pair in the series. Worn for 20-22 hours a day, the aligners can be removed for a social event or to brush and floss.
Book Your Complimentary Visit
Your Invisalign consultation with us is complimentary. If you decide to begin Invisalign treatment, you'll receive a complimentary checkup and cleaning along with a take-home whitening kit. Terms and conditions apply: limited time only. Contact us or call (07) 3666 0726 for details.