Dental Veneers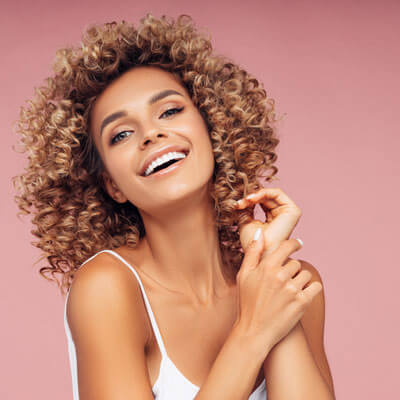 Veneers may be right for you if you aren't happy with your smile. These thin tooth coverings can conceal an array of imperfections such as tooth discolouration, shape variations and more. Veneers represent a quick way to fix your smile if you don't want to straighten your teeth using braces or aligners that may take up to two years. They are generally used on the top front 6-8 teeth.
A Simple Solution for a Stunning Smile
An extremely thin piece of porcelain can be affixed to your front teeth to give you an aligned, symmetrical look. Veneers are a conservative way to improve your smile by a drastic amount. The veneer materials we offer include
Porcelain
Zirconia
Glass
Composite (plastic)
The material that's right for you depends on what your expectations are. Our dentists are happy to discuss what is most appropriate for your particular case.
What to Expect
At your first appointment, Fortitude Valley Dentist will collect all your records and take pictures and moulds of your teeth. Your dentist will perform a detailed exam of your gums, teeth and bone, and assess your occlusion (bite). Once we have all the records we will have you visit our ceramist at a local lab who will create a 3D design of your smile and make a wax trial of what your teeth will look like with ceramic veneers on.
If you're happy with how your veneers look, we can use that wax trial to make temporary plastic veneers, and we can put them on for a week or two. This test drive also will allow us to determine if the veneers affect your speech.
We can make any adjustments such as lengthening a tooth to ensure you are completely satisfied. If you are pleased with how your veneers look we can then proceed to prepare your teeth and then take moulds to send them to the local lab where they will be used to fabricate your veneers by hand. The world-class lab is only a 5-minute walk from the practice.
You don't need a trial phase with composite Veneers, however, you can opt for it at an additional cost. The trial phase is most beneficial when you're going to be removing tooth structure (ceramic/porcelain veneers). With composite veneers, you're not taking away any tooth structure so we can have them fabricated for you straightaway. It's always safer, however, to go for a trial first.
We will have you return to have your veneers bonded to your teeth.
What are the advantages and disadvantages of ceramic or porcelain veneers?
They change the smile or appearance of a person's teeth with minimal prepping. Ceramic veneers have a much better resistance to fracture and they hold the colour longer than composite veneers.
One disadvantage of ceramic veneers is they do require some removal of tooth structure. You have to remove about 0.3 millimetres from the front of the tooth and can go up to 1-1.2 millimetres of reduction. Ceramic veneers also cost more than composite ones at about $1200 per tooth.

What are the advantages and disadvantages of composite veneers?

With these veneers, no tooth structure needs to be removed. You just add them on to the current teeth. Composite veneers are also less expensive than porcelain ones at about $750 per tooth. These veneers can be done in a single visit.

How long will my veneers last?

As long as you care for your veneers properly, they should last between 10-20 years. Without proper maintenance, the average lifespan is less than a decade. All of our dental veneers are Australian made and feature a 5-year warranty, provided that you keep up with your check and clean every six months.

Is the procedure painful?

We find that any nervousness arises due to lack of information and preconceived notions that patients would have about the procedure. We will provide numbing before we begin, and if you have severe anxiety, we can provide nitrous oxide.

Does insurance cover veneers?

Many health funds cover veneers but it depends on the level of cover you have and your particular health fund.

I don't have insurance. Do you offer any payment plans?
How much do veneers cost?

Depending on the type of veneer that you need and the design time that's necessary (such as hand-crafted characteristics applied by our ceramist), the cost is $950 to $1800 per tooth.

How long is the dental veneers process?

From start to finish, about three weeks.

Quickly Change the Look of Your Smile
Dental veneers are specifically used to change the way your teeth look. Each ceramic cover masks irregularities and imperfections, hiding the original tooth behind it. If you're currently unhappy with your smile or don't want to spend time in braces to correct your bite, then dental veneers could be the perfect fit.
Our Unique Dental Veneer Approach
We work a bit differently than the majority of dental practices. How? By partnering with one of Australia's top ceramists. We're lucky enough to be about a kilometre away from one another, which allows us to coordinate an included complimentary visit for custom shade matching and design. During your visit with the ceramist, they will conduct a photoshoot to match the shade and shape of your perfect veneers design.
Daily Care and Maintenance
Just like your natural smile, restorations such as veneers require daily care to prevent wear. You'll want to treat them the same way you do your own teeth. Floss around each veneer on a daily basis, avoid consuming dark-coloured drinks (like wine and black coffee) and steer clear of biting into hard items.
Your Dental Veneers Consultation
Book a consult with our office to find out if dental veneers are right for you. During the visit, we'll review your facial shape, oral anatomy and discuss what your concerns are. We'll determine if veneers are best for your situation or if any alternatives are available. If veneers are the best choice and you're happy with the recommended care plan, you can take the next step in booking your first treatment appointment.
Book Your Consultation Today!
If you'd like to transform your smile with veneers, contact Fortitude Valley Dentist today to schedule a consultation!
Take advantage of 0% interest free financing plans. Need a check up and clean? – it's just $199* for an examination, cleaning and take-home whitening kit! (*or GAP only with health insurance, offer valid for new and returning patients). Book your time today.

Dental Veneers Fortitude Valley, Spring Hill, Newstead, QLD | (07) 3666 0726