Cosmetic Dentistry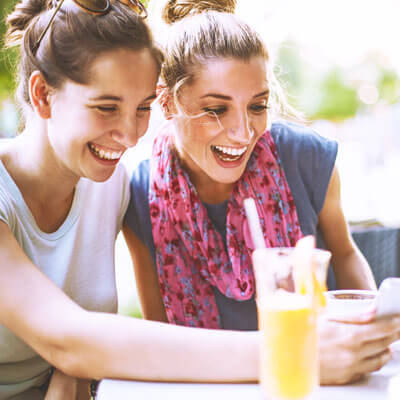 The team at Fortitude Valley Dentist provides a range of services to keep your smile bright and healthy. Over time, teeth can become damaged, and you might wish that you could make changes to restore the beauty of your smile. Our cosmetic dentistry solutions will help you achieve your goals.
A Tailored Approach
Cosmetic dentistry consists of a variety of treatments, tailored to meet the unique aesthetic concerns of our patients. For example, we might utilise Invisalign® aligners to adjust the position of your teeth, cover irregularities with dental veneers or repair the function of worn teeth with a ceramic crown.
Some types of cosmetic dentistry treatments strengthen while others mask or change your tooth shape. The various options address your specific complaints and are adjusted to your individual situation.
Not Happy With How Your Teeth Look?
A smile transformation can consist of any number of cosmetic dentistry treatments to help you feel happy about your smile's appearance. If your teeth are discoloured, unsightly because of old metal fillings or you have gaps that make you feel embarrassed, any number of treatment solutions can help.
By combining various techniques we can both improve your bite's functionality as well as the way it looks (all at the same time). There's no single treatment that's best or right for everyone. Each makeover is independent from the next.
Time and Costs Involved
Ultimately every smile makeover experience is guided by the needs, preferences and budget of the patients we serve. For some individuals, it will be a simple one-visit procedure that only costs a couple hundred dollars. For others, it could be a multiple-visit process that they choose to finance over time. We adjust our recommendations based on your timeline and budget to find a solution that fits your lifestyle.
During your initial consultation, we'll gain a better understanding of what your expectations and needs are. From there, we'll present you with applicable options to choose from. Some are more direct, while others are a series of processes spanned out over several months.
Yes, we offer interest-free payment options. By working closely with your health fund, we can determine what your estimated out-of-pocket amount will be. Any remaining balance can easily be financed on a monthly basis without the need to delay your treatment.
Candidates for Cosmetic Dentistry Treatment
Since cosmetic dentistry is an approach to care that utilises a combination of various treatments, nearly any age can benefit. Strictly aesthetic services such as dental veneers or replacing a missing tooth with an implant, however, are reserved for fully developed adult smiles.
If you have active gum disease, tooth decay or other physical damage to your teeth, we will want to incorporate a therapeutic and restorative approach to your care plan. That way you have a healthy foundation to support a gorgeous new smile. For instance, we can utilise ceramic crowns to complement the appearance of a specific tooth while also repairing structural wear and fractures.
Who Should Get a Smile Transformation?
Do you frequently feel self-conscious due to the way your teeth look? If your smile's appearance is interfering with your personal, professional or social life, it could keep you from the everyday interactions that you enjoy. Even posing in a photograph may make you feel uncomfortable.
By addressing existing imperfections in your smile, you can erase the flaws that cause you to feel embarrassed. Perhaps best of all, smiling or talking around other people is something you can enjoy rather than avoid.
Examples of Cosmetic Dentistry Treatments
---
---
Get Started Today
If you'd like to enhance your smile with one or more of our cosmetic dentistry options, contact our Fortitude Valley dental practice today to book a consultation. We look forward to helping you get the smile you've always wanted!
CONTACT US

Cosmetic Dentistry Fortitude Valley, Spring Hill, Newstead, QLD | (07) 3666 0726