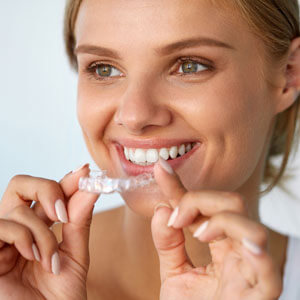 There are many reasons why so many adults have teeth that aren't as aligned as they could be. Perhaps you needed orthodontic treatment as a child, but your parents weren't able to get it for you. Maybe you've had a situation that's caused your teeth to shift out of place later in life, such as a trauma or accident. Whatever the case may be, know that you have options at Fortitude Valley Dentist if you would like to straighten your smile.
Fitting in With Your Lifestyle
When you complete Invisalign® treatment, you'll feel greater confidence in social situations, in your work life and notice that your self-esteem has gotten a boost. While your smile is shifting slowly into the desired position, nobody will know that you're wearing your aligners.
Advanced Software and State-of-the-Art Materials
Invisalign uses ClinCheck® software to map out your treatment plan. From wearing your first aligner to the very last, you'll see each shift your teeth will make. This software removes the guesswork from your treatment. You'll know exactly what results you can expect at the end.
Furthermore, Invisalign is the sole orthodontic system that uses SmartTrack® material. It's comfortable to wear and doesn't make you struggle to take the aligners in or out. Though the fit is snug to make sure that you can get the results you want, you'll find that they're easy to wear, too.
Book a Complimentary Checkup, Get a Whitening Kit!
If you undertake Invisalign treatment at Fortitude Valley Dentist, we're pleased to include a dental checkup and clean along with a take-home whitening kit. Terms and conditions apply. Available for a limited time only.
Contact us for details on (07) 3666 0726.